In Memory
John Allensworth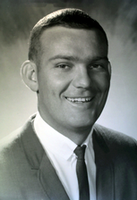 John Merlen Allensworth, passed away on Sunday, September 12, 2021, at the age of 77. Funeral services will be held at 2:00PM on Thursday September 16th at First United Methodist Church with a reception to follow.
After several years of battling Parkinson's Disease, John died peacefully with his beloved wife Lynn by his side. John was born in Roswell where he lived almost his entire life. John attended Roswell High School and went on to earn a Masters in Education at Eastern New Mexico University. From there he was known as "Mr A." or "Coach" at Valley View Elementary and Sierra Middle School. Then proceeded to become an Assistant Principal and Principal at several middle schools. John's gift for shaping the minds of Roswell's youth extended for many years and he was loved and respected by all who had the privilege of knowing him.
John was an avid outdoors man and loved to fish, golf, and hunt. Most of all he loved his family. John and his beloved wife Lynn were married for 56 years whom he adored with all his heart. His sons Todd and Scott Allensworth have blessed him with 4 grandchildren and 3 great grand children.
John was born in Roswell, New Mexico on March 9, 1944, to father Cliff Allensworth and mother Opal Edmonston. John was preceded in death by his three brothers Tom, Jerry, and Bob Allensworth and survived by his two sisters Ruth Dickenson and Nelda Doyle. He is survived by his wife Lynn Allensworth; children Todd Allensworth and Scott Allensworth; their wives Sandy Carter and Amy Allen; grandchildren Alexis Vroom, Maria Allensworth, Kassie Allensworth and Isabella Allensworth; and great-grandsons, Sebastian, Blaise and Zakai Vroom.
"Mr. A" & "Coach"