In Memory
Bracie King (Sterling)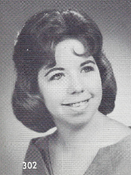 Bracie Sherling King 56, passed Thursday, Aug. 31, 2000 - Pampa, Tx.

Services will be at 10 a.m. Saturday in the St. Matthew's Episcopal 
Church with the Rev. Jacob Clemmens, rector, officiating. Graveside 
services will be at 4 p.m. Saturday in the Gaines County Cemetery 
at Seminole, Texas with the Rev. Mike Elmer, rector of St. John's 
Episcopal Church of Lamesa officiating. Arrangements are by 
Carmichael-Whatley Funeral Directors.

Bracie King was born in Haskell. She was a longtime resident of Seminole 
before moving to Pampa in 1992. She worked as a deputy in the 
Gaines County Sheriff's Office and then as detective and a field training 
officer for the Pampa Police Department. She retired in 1999.

She was a member of St. Matthew's Episcopal Church. She married 
George Sherling in 1967. He died in 1985.

Survivors include her daughter, Chandra Nix of Pampa; a son, 
Kevin Sherling of Fredericksburg; her mother, Maurine King of Seminole; 
two sisters, Melva King of Seminole and Rhonda King of Lubbock; and 
a brother, Owen King Jr. of Seminole.

The family suggests memorials be to the BSA Hospice, 800 N. Sumner, 
Pampa, TX, 79065.