In Memory
Alice Murcato (Beagan)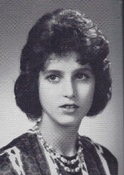 Alice Jane Beagan, 72, of Kissimmee, Florida passed away on May 5, 2017.
Alice was born in Roswell, New Mexico on September 12, 1944 to the late [auth] Maddie Jane (Pirkle) and Rocco Muscato.
Alice graduated from Roswell High School in 1962. Alice is survived by her loving husband, John "Jack" Beagan, and her children, Michael Beagan and Theresa Campbell.
She also leaves behind numerous grandchildren and great-grandchildren.
A celebration of life will be held in Alice's honor, at a later date.
In lieu of flowers, the family invites you to please consider making a donation to Cornerstone Hospice Foundation.