In Memory
Larry Jump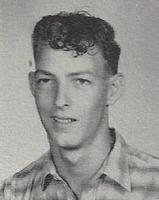 Memorial services will be held for Larry G. Jump Sr., 70, of Roswell, at 3 p.m. Wednesday, Dec. 18, 2013, at Anderson-Bethany Funeral Home Chapel with Gentiva Hospice Chaplain Tim Arlet officiating. Larry passed away Saturday, Dec. 14, 2013.
Larry was born Jan. 18, 1943, to Carl Jump and Lois Mae Jacks Jump in Indiahoma, Okla.
He was a beloved brother, [auth] husband, Dad and Papa. He was an enthusiastic hobbyist, poker being his favorite. He will be greatly missed by all who knew him.
Larry is survived by his son, Larry G. Jump Jr. and wife Joan of Roswell; daughter, Lori Cox and her husband, Gerald of Roswell; granddaughters, Laci Cox and Serise Jump and husband, Tommy Apodaca; great-granddaughter, Jaylynn Apodaca (Little Bit); brother, Vernie Lee Jump and his wife, Rita of Iowa; uncle, Vernie Jacks and his wife, Dee; cousin, Bob Beason and his wife Linda of Roswell; nieces, Christina Jump and Shelly Gerleman; sister in-law, Vivian Drake and her husband, Allen of Roswell; nieces, Michele Chapman and Tabitha O'Conner; cousins, Richard Mckinley, Elsie Chowen and Ernest "Smitty" Smith, all of Roswell.
He was preceded in death by his wife, Linda Jump, his parents, Carl Jump and Lois Mae Jacks Jump and a sister.