In Memory
Mari Anderson (Sardy)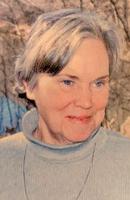 Maria Nelson Anderson passed away on Wednesday, September 22, 2021, at the age of 76, in Colorado Springs, Colorado. Maria, who was known to many throughout her life as "Mari" and later as "Mara," was born in Roswell, New Mexico, on October 27, 1944. The third daughter of Robert O. and Barbara Anderson, she was a graduate of Northwestern University, where she studied history and journalism, and subsequently earned her teaching certificate at the University of Denver.
In 1973, in the company of her then-husband, T.J. Sardy, and their six-week-old infant daughter, Alicia, she moved to Anchorage, Alaska. There, for twenty years, she lived as a homemaker, mother of four, and substitute teacher of English and history. She loved the outdoors and often took her family on outings for picnicking, swimming, camping, fishing, and downhill skiing. During that time, she studied and wrote about Alaska history, occasionally giving talks and contributing articles to Alaska magazine and the Milepost. She also traveled extensively, circling the globe to see places such as Scandinavia, Algeria, China, and especially Hawaii, a favorite family vacation spot that she visited regularly with her children.
In the latter part of her life, coping bravely with chronic mental health challenges, Mari lived in various places throughout the West—particularly Santa Fe, New Mexico, a city she often remembered fondly. In 2018, she moved to Colorado Springs, Colorado, to be near her youngest daughter, Adrienne. There she lived beside a lush pond and enjoyed spending time watching the birds and squirrels, as well as reading about European history, writing in her journals, attending services at Saint Andrew's Episcopal Church, and visiting the area's many natural and historical attractions. She will be remembered for her intelligence, grace, and generosity.
Mari was preceded in death by her parents; her older sisters, Kit Denton and Julie Smith; and her son, Tom Sardy. She is survived by her brothers, Robert and Phelps Anderson; her sisters, Barbara Kryder and Beverley Fornaciari; her daughters, Alicia Andersen, Marin Sardy, and Adrienne Sardy; and her grandchildren, Michael Andersen, Ursa Barton, and Remy Barton.
The family will hold a private memorial in Mari's honor on Sunday, November 7, in Santa Fe, and would like to suggest that in lieu of flowers, memorial contributions may be made to the Life Link at http://www.thelifelink.org/.